Which Harness is the Best for Mantrailing?
Mantrailing harnesses come in a variety of makes and colours, but generally it comes down to the shape and size of the dog, as well as the fit for the dog.
The harness needs to be fitted correctly in order to not rub or be uncomfortable for the dog. The fitting needs to be correct in order for you to feel the dog while trailing via the long line.
Why do we use a Harness?
The harness is a cue to start getting ready to trail, Mantrailing Global incorporates it into the ritual used to tell the dog they will be going mantrailing.
We use a specific harness for mantrailing in Mantrailing Global sessions. This harness is only used for mantrailing, and is well fitted to the dog. This acts as a cue, this means the dog sees the harness and knows they are beginning the ritual prior to the start of the trail.
Many dogs get excited by the sight of the harness prior to trailing where as others start to sniff to work out a direction of travel of the trail, as the harness is usually paired with the scent article.
We use a harness to allow the dog maximum movement on the long line when mantrailing without the handler hindering them, but so we can also have an attachment point and be able to have them trail safely. The dog is able to lift its head up or move it closer to the ground unimpeded, as well as from side to side in a well fitting harness. Where as as collar would stop the dog being able to move naturally and could choke them also.
The harness also allows us to distribute the pulling pressure across the dogs whole body, and reduces the impact the pulling causes.
We cannot allow a dog to work off the long line or harness as this is not only dangerous, but also does not allow the dogs to work as a team. Leads and harnesses are used to keep our dogs safe in their daily activities, to avoid things such as running into roads or into fields of livestock, mantrailing is no different.
Fitting the Harness
Obviously harnesses need to fit correctly, making sure their is no pinching and rubbing against the skin. The hot spot areas for these are the armpits and chest. There need to be no impact on the movement the scapula (shoulder blade) while the dog works, as well as no impediment on the back of the shoulders/spine area from an overly large padded area.
When selecting a harness for your trailing dog it can seem like a daunting task. There are many sizes, shapes and claims out there on the internet about harnesses. Especially those used for sports with dogs. Plus the associated costs of buying a harness and then it not fitting correctly. Each dog is a different size, and shape so there is no one size fits all.
Thinking specifically about mantrailing, the harness needs to be designed to not impede the nose going to the ground. So it cannot fit high on the chest or go over the chest in a horizontal line. Ill-fitting, or to high up fitted harnesses will actually start to choke your dog while working, you'll generally hear a coughing from them or wheezing sound as they pull into the harness.
Badly fitting harnesses can leading to refusal to wear a harness and reluctance to work. Many a good working dog is ruined by poor equipment choices, based on our own perceived choices of what is right, rather than what the dogs need.
Having said all that, there are plenty of designs out there suitable for your dog its just making sure it fits your dog properly. Don't select a harness based on what colour it is or what type your friend has. But what fits your dogs body and working pace.
Our three top tips or choosing a harness for mantrailing are:
Make sure the harnesses when fitted does not impede the airways, so it well fitted around the neck and when the dog pulls down it does not cause them to choke. Generally a Y shaped front on a harness is perfect at avoiding this as long as it fits your dog correctly, some have thinner breast plates and others wider ones. We ideally don't use the horizontal line harness that goes across the shoulder blades as this impedes the dogs movements.
Do you need a long or short harness? Generally larger dogs who are stronger pullers do better on a longer harness where the weight of their force of pull is distributed evenly across their back. But this isn't the case for all as a longer harness can lead to lines being tangled around tall wiggly tails. Shorter harnesses are generally more suited to smaller more compact breeds, but also dogs with longer coats as they get less matted.
Always remember to pull the harness into pull position when trying the harness on. There is no point fitting it fine for when the dog is stationary. Make sure it is pulled so you can see the design at work. They will often look like they don't fit if the dog is just stood there, when in the pull position is engaged the harnesses fit well.
My Top Choices for Mantrailing Harnesses:
Julius K9 Mantrailing Harness – This harness has been specifically designed for mantrailing. It is low impact on the chest, and distributes pressure evenly along the spine and body. It is easy to fit with five adjustment points and four clips. Its ideal for the head shy dog as well, as it can be clipped on rather that pushed over their head.
I have found it the best so far for my dogs needs, but with any design it doesn't fit every dog.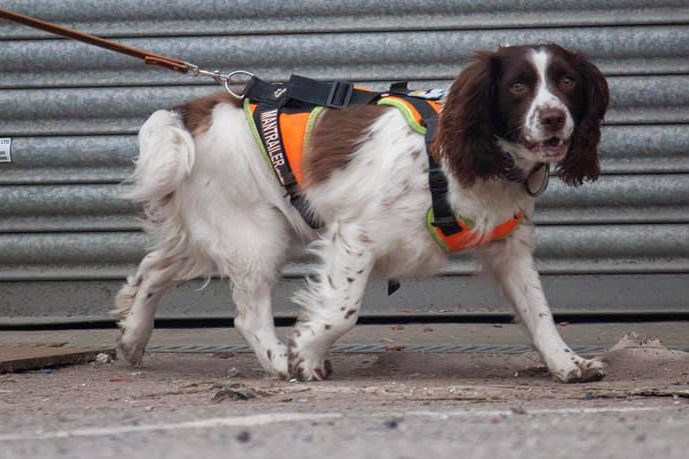 You can get a UK version of the Julius K9 Mantrailing Harness from Amazon, it comes in a variety of colours and sizes. The make it very similar with the only main feature difference is the material used.
Zero DC Short Harness – This is originally designed for the pulling sport of Cani X but it is well adapted to be used with mantrailing as well. It is ideal all round harness as it goes down to tiny sizes. Its very light weight, and the dogs hardly notice they are wearing it, which can be ideal for more sensitive dogs.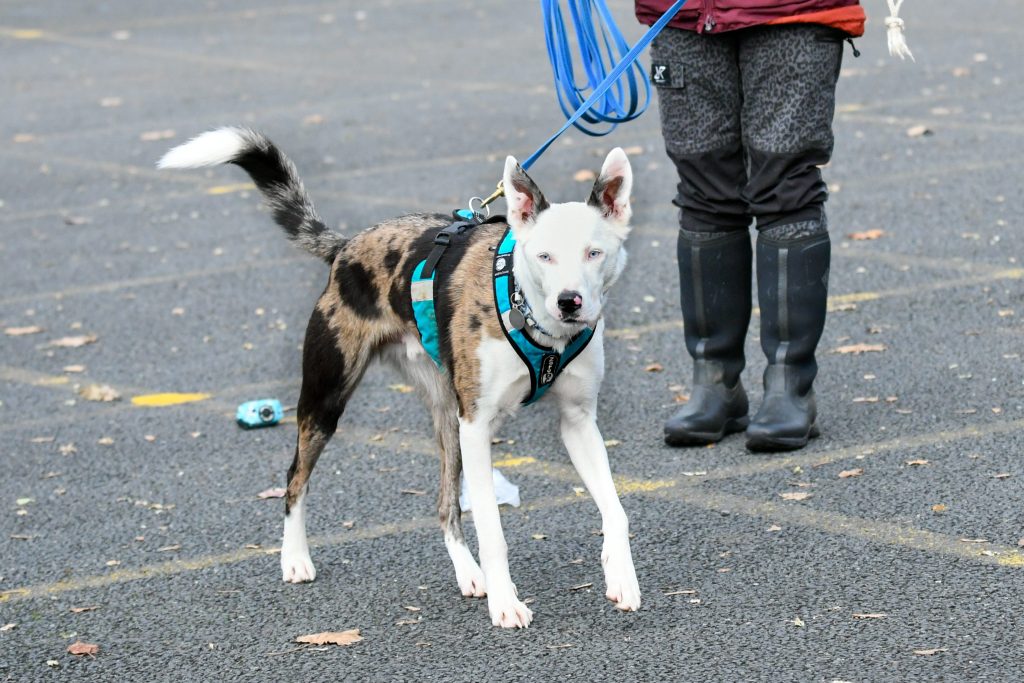 Truelove Dog Harness – This is a budget friendly harness which comes in a variety of sizes, and is ideal for stronger pullers. The down side is it only has three points of adjustment and these are minimal, the shoulder shape cannot be changed and as such it does not fit every dog. There is a side clip on the shoulder which is ideal for head shy dogs.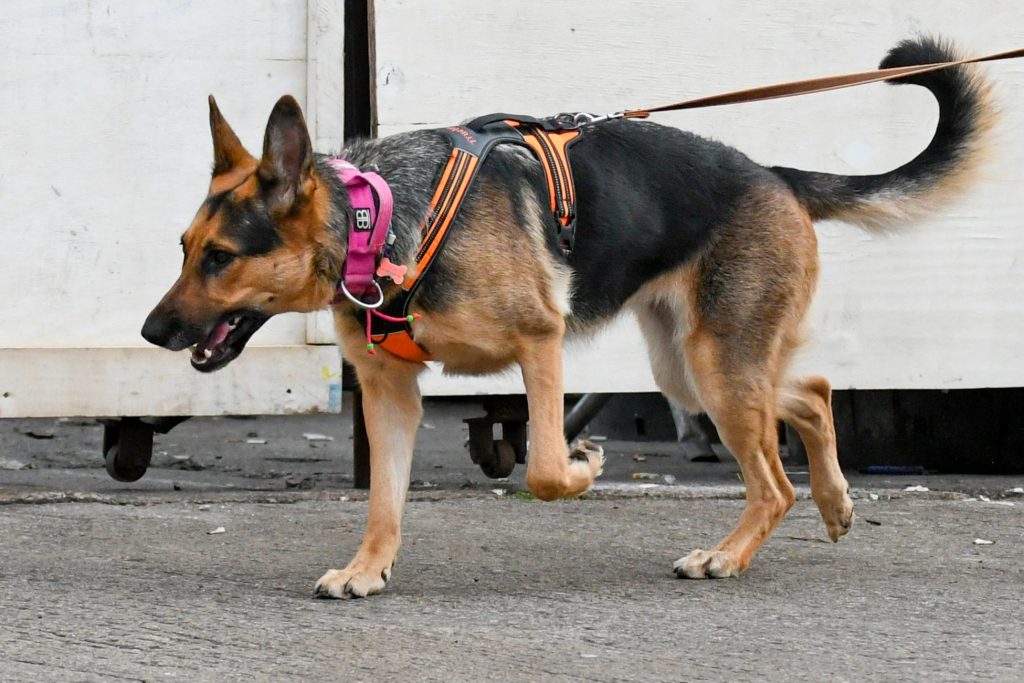 Neggeloh "Follow" Harness – Created for mantrailing dogs by the people using them. This harness is well designed for dogs of all sizes and allows a huge array of movement when trailing. The harness is padded and has a large sized breast plate for even the strongest pullers.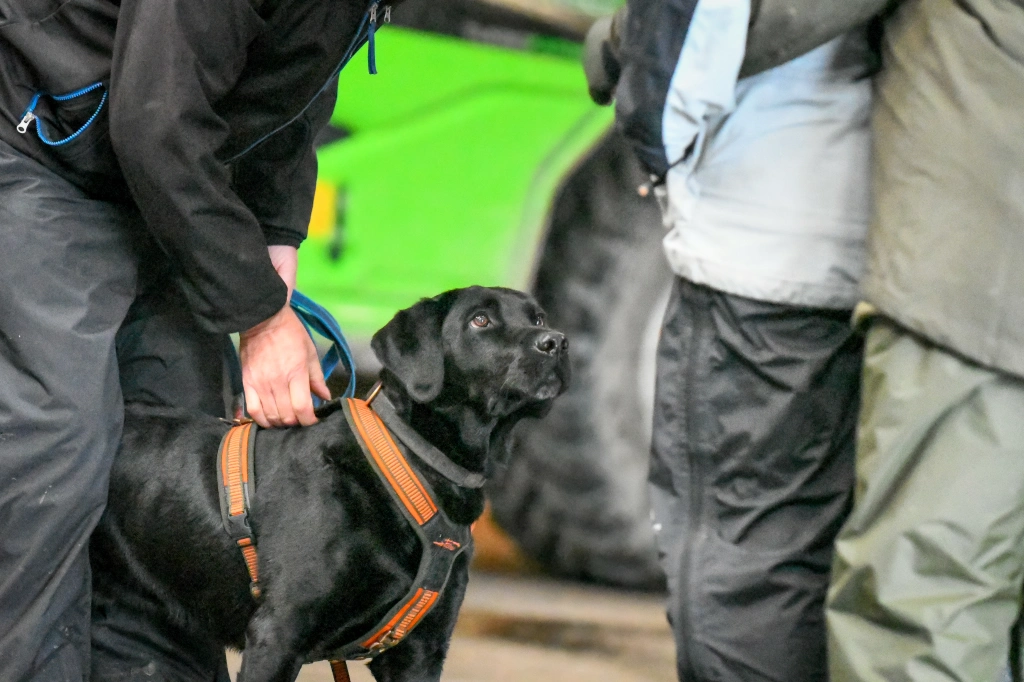 We have teamed up with Sporty Paws to provide you with a huge choice in harnesses for mantrailing, you can use the code LSTRAILINGK9 for 10% off your order.
Regardless of the harness you choose make sure your dog is having fun mantrailing. Make sure it fits the body of the dog you have, and this can mean trying multiple harnesses to try before finding the best one. Most Mantrailing UK/Global Instructors have multiple harness brands to try while you trail with them.