Choosing Long Lines for Mantrailing
What is a Long Line?
A long line is a longer lead than normal, usually 8-10 meters long which is attached to the dogs harness when mantrailing.
The long line is a static line, not extendable so that you can maintain a constant tension with the dog while mantrailing.
We use the long line to be able to trail with dog safely and as a team, without the line we would not be able to keep up with the dog as it follows the scent. We would also not be able to keep them safe should they head towards a road or hazardous area.
The line is also an important part of our communication with the dog as you can feel the change in tension when a dog is on or off the trail. It is not to be used to influence the dogs behaviour, but can be used to help the dog when they are unsure of the direction the trail has gone.
Types of Long Lines
Long lines come in different materials, lengths and weights and the choice of is down to your dog and you.
The rubber gripped long line is a line which has a rubber material built into the fabric which allows more grip for the handler. These are especially good for stronger dogs due to the added grip the lines create, so that the line doesn't slip between the fingers causing burns on the hands. This type of line tends to be at least an inch wide to make sure there is enough grip in the line.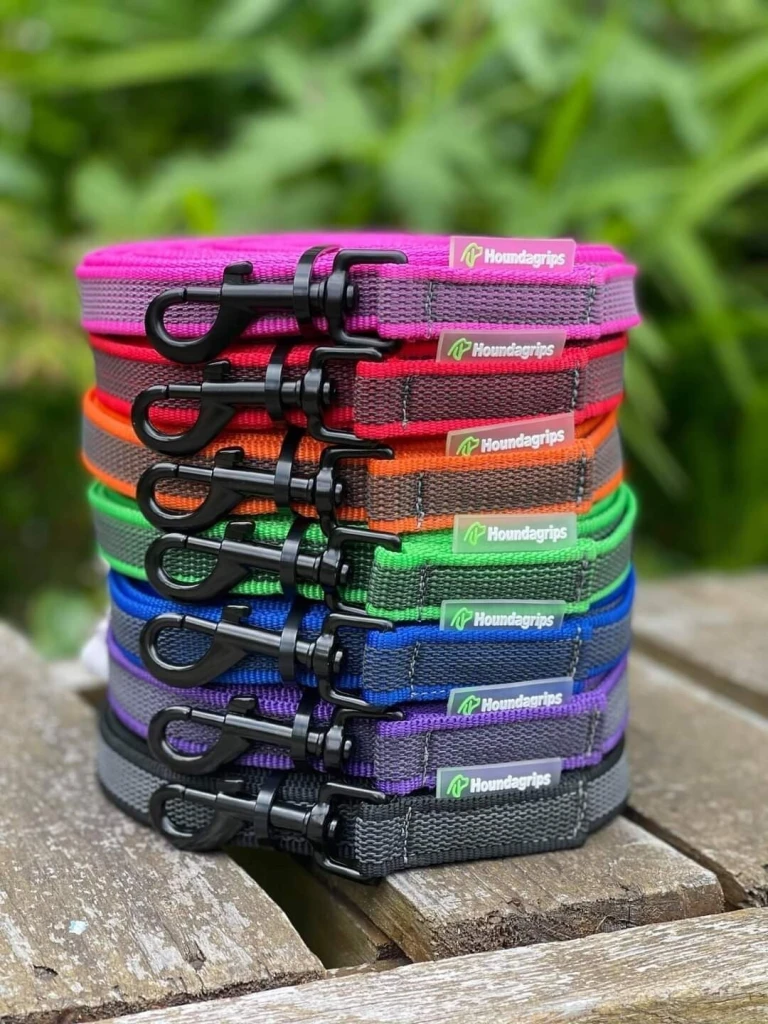 I myself highly recommend Houndagrips as they are the highest quality rubber gripped long lines.
The biothane long line is an eco friendly and durable replacement for leather products. It is rolled or flat, and can be in different weights. The line can come in a variety of colours and is easily cleaned as it is wipe down.
A good example is Handmade Hound. High quality biothane long lines made in Shropshire.
The option for smaller dogs to have a lighter weight line can help not hinder their mantrailing. It is also great for those who find reeling in the line more complex as there is less to hold.
The main issue with biothane is that it can be slippy when wet and this can create a hazard for the dog and handler.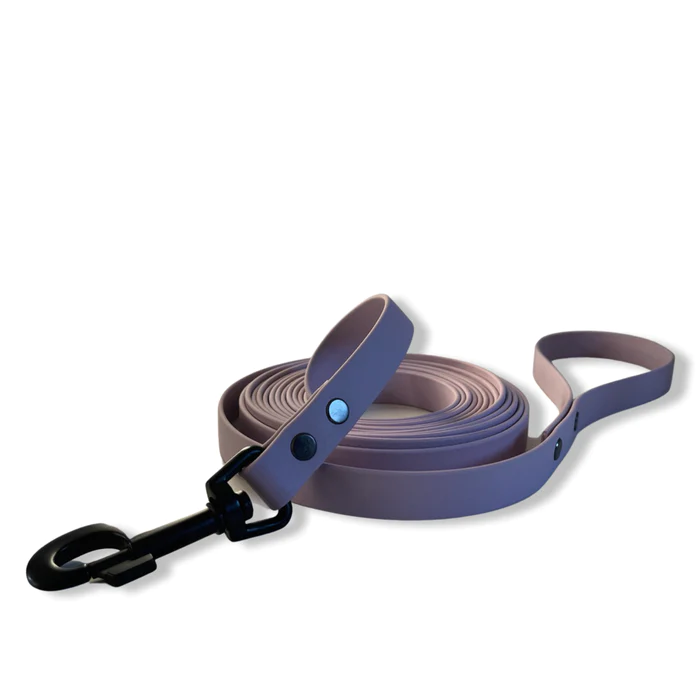 Leather long lines are the original long lines and are very durable and able to be used in a variety of weather and environments without getting slippy or caught on things.
Leather lines are more costly to buy than the other lines, and take time to wear in. You need to soften the leather with use mantrailing, and there is upkeep to the line to keep it in top condition.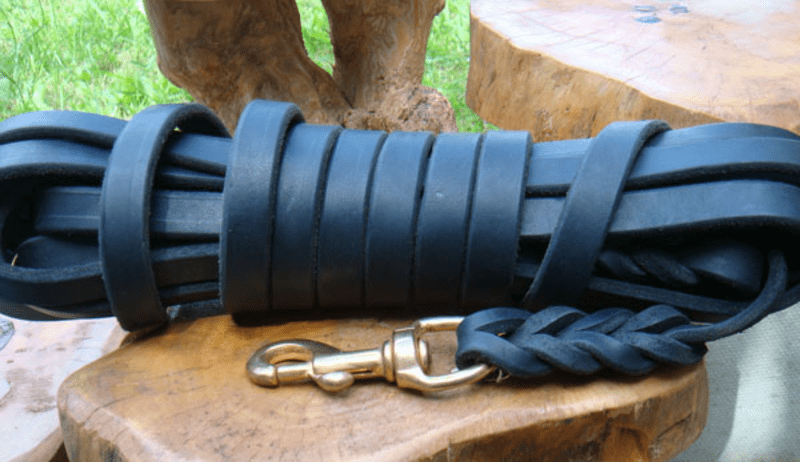 Nylon lines are a budget friendly option and can be durable and easy to handle as they are very light weight, they are the most common lines seen in pet shops.
The Nylon line can easily cut your hand if pulled at speed, as the edge are crisp. They are not recommended for stronger dogs due to the lack of natural grip on the line and risk of cutting the hand.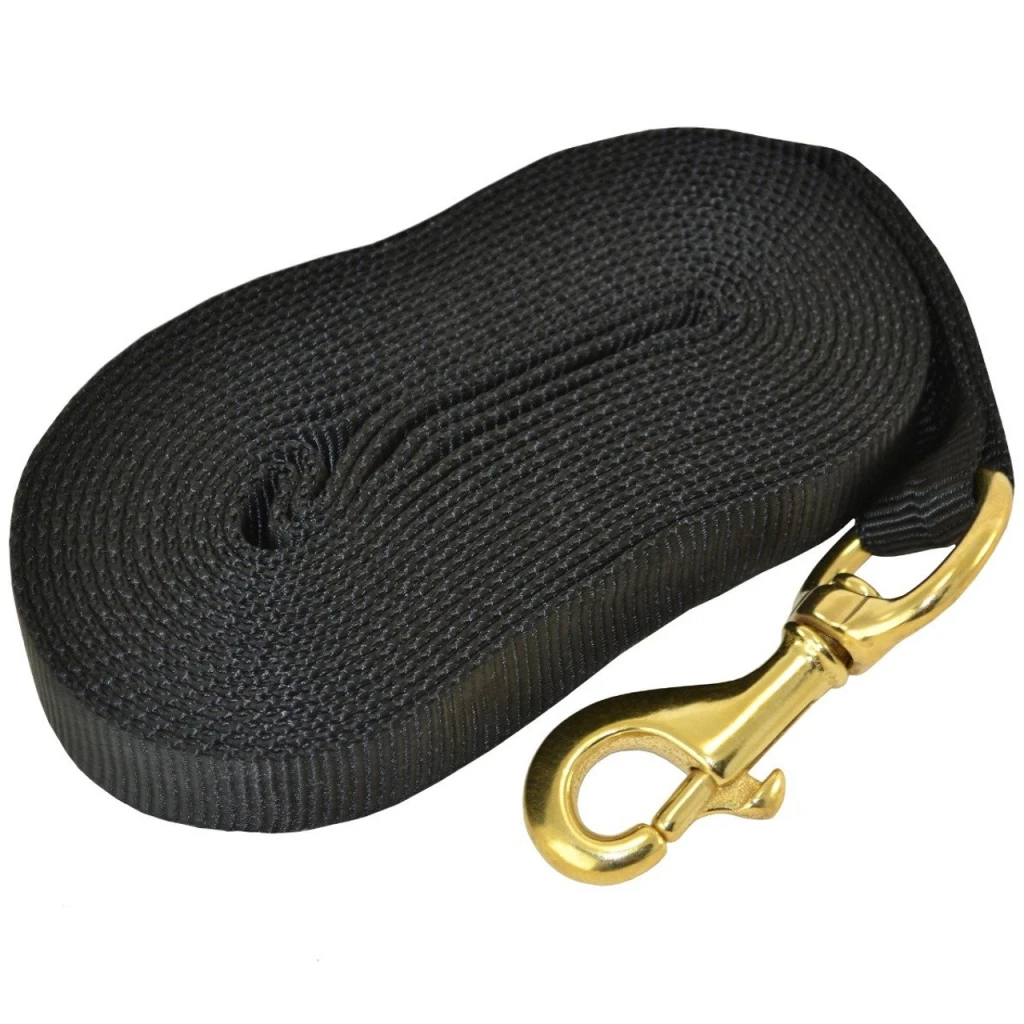 Choosing the Right Long Line
The biggest thing to look at is the strength of your dog when trailing. Are they a steam trains who drag you down the trail, or methodical sniffers who saunter down the trail? Every dog trails differently and you need to take them into account, over anything. The stronger the dog the more likely that a rubber gripped line will be more suitable.
The weight of the line is the next to the consider. Smaller dogs may need a lighter weight line to trail with, heavy lines could be negative to them with the weight slapping against their back so in this case a light weight leather or biothane line would suit a smaller dog.
We also need to consider the weight of the line for us, we have to carry it along with us and lighter lines can be easier to handle, where as heavier may feel more secure in your hands. Heavier lines are generally considered to be more sturdy as well, with more tensile strength.
Then length is the next factor. Generally lines are 5m to 10 meters long. Often we don't use the whole length of line for most dogs, but dogs which cast widely in search of scent may need 10m in which to find the trail again. A short line will impede your dogs ability to trail in some cases, and could lead to you correcting the dog by over handling. Where as a line that is too long can lead to tangles, or dogs getting injured as we can't stop them going towards hazards. The perfect length is 10 meters long, with most people using the long line at 6-8 meters on a normal trail.
A lot of line choice comes down to your handling skills, and it is worth trying different types of long lines in order to see what type suits you and your dog. Your instructor should be able to lend you a variety of long line types to try.
If you have a fast dog which is rapid on the trail a top tip is to put a knot or rivet on the line at 8 and 9 meters on the long line so you when you are coming to the end of the length.
We do not advise you have a handle on the end of the long line as it can be tempting to wrap the line around your wrist. This is dangerous and can lead to broken wrists if the dog was to get out of control and pull the handler. It is safer in many cases to not have a handler and be able to quickly release the lead if needed.